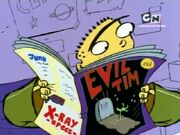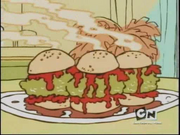 This is one of the episodes from The NEW Edventures of Ed,Edd,N Eddy.
Title referrence:Boring in the Rain
"Boring in the Ed"
Date written:
August 1,2009
Writer:
SuperSaiyanKirby
Series:
The NEW Edventures of Ed,Edd,N Eddy
Fanfic No.:
3
Previous Fanfic:
Ed Kombat
Next Fanfic:
Ed the Movies!
Plot
It's raining in the Cul-De-Sac and The Eds must find something to do in Eddy's House.
Trivia/Goofs
This is the first time Nazz says "LOL!" or "OMG!".
This is the second time Ed reads Evil Tim.First was It Came From Outer Ed.
Evil Tim first appear as a ghost .
Ezekiel breaks the fourth wall by saying "This is not a cartoon".
Transcript
Narrator(Peter Collins):It is raining in The Cul-De-Sac. This is a story of how the Eds made burgers.

Eds: [sigh]
Eddy: Guys.
Ed and Double D:Yeah?
Eddy:What do you wanna do today inside?
More SOON!
Ad blocker interference detected!
Wikia is a free-to-use site that makes money from advertising. We have a modified experience for viewers using ad blockers

Wikia is not accessible if you've made further modifications. Remove the custom ad blocker rule(s) and the page will load as expected.