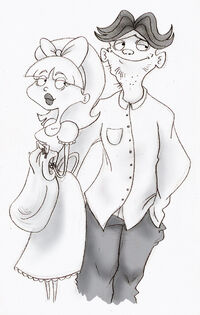 Background information about Ed's parents. This concerns VampireMeerkat's design.
Ed's parents made their first appearance in 2009, and were again in developement since the beginning of 2013. Their 2013 designs have been confirmed.
NOTE:
This page is not free to edit.
Angela
Full name: Angela Felicia
Age: 38

Description
Angela is Ed and Sarah's mother. She's a housewife and therefore usually busy in and around the house, but hardly ever spotted.
She's a sweet and hardworking mother, though can be just as often aggressive and manipulative. She tends to treat her husband with the same amount of respect Sarah has for Ed. She likes jewelry and always manages to get whatever she wants from Tim.
Ed likes to impress her the most, as she's often angry with him and he feels like he has to prove himself to her.
Past
(Unknown)
Appearance
She has blonde hair, blue eyes, long fake nails, and usually wears a white ribbon headband and a pink dress with a white apron. At other times she wears a purple dress.
Tim
Full name: Tim
Age: 38

Description
Tim is Ed and Sarah's father.
He's a slacker at home, but a hard worker outdoors. He often works till late at night and always returns beaten-down and zombified, causing some screams when he comes home.
While it's always expected of him to solve all family issues, he taught himself to become deaf for the neverending complaints from his wife and daughter.
He likes to spend every bit of spare time he has on himself, and therefore is never interested hearing about any problems concerning his son, Ed, which he tends not to take seriously.
Past
(Unknown)
Appearance
He has orange hair, brown eyes, yellow teeth and is all around hairy.
Trivia
Angela's design is mostly based from Ed's dream in the episode "Rock-a-Bye Ed".
Angela slightly resembles Sarah, especially Sarah's adult design.
See also
Ad blocker interference detected!
Wikia is a free-to-use site that makes money from advertising. We have a modified experience for viewers using ad blockers

Wikia is not accessible if you've made further modifications. Remove the custom ad blocker rule(s) and the page will load as expected.