Ed Trip is a special part of The NEW Edventures of Ed,Edd,N Eddy
.
Title reference:Field Trip
"Ed Trip"
Date written:
August 1,2009
Writer:
SuperSaiyanKirby
Series:
The NEW Edventures of Ed,Edd,N Eddy
Fanfic No.:
6
Title Reference:
Field Trip
Previous Fanfic:
Ed the Movies!
Next Fanfic:
I'm your Ed
Plot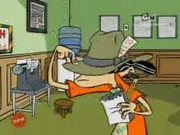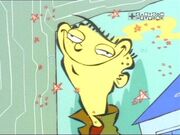 The Kids of Peach Creek Jr. High goes on a field trip to Disney World.
Quotes
Guard: Do you have a guardian?
Johnny: Watch it! If you ask us that, Plank will call your boss and you'll get fired!
Transcript
Kevin: (To Nazz.) Eddy's a dork. (Throws a paper ball at him.)
Eddy: Hey! Stop that, will ya!? (Bell rings.)

Ed:Guys, the school field trip is tomorrow!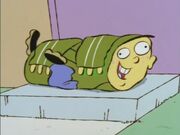 Ed: What is the place?
Edd: According to Section 9 of the paper,we go to....
Eddy: Spit it out, Stupid!
Ed: DISNEY WORLD!!!!! HOME OF MICKEY MOUSE!!!!!!
Eddy: Tomorrow boys, we're going to Disney World, Home Of Mickey Mouse!
(Scene cuts to the next day.)
Edd: Hurry! They're about to dismiss to Disney World!
Bus Driver:We need 3 more kids and we're off.

Kevin: I bet the dorks didn't heard about the-
Eddy: We're here!
Kevin: Dang.
Bus Driver: Now we are off,kids.
Kevin: Just wait til next year!
Jimmy: This is gonna be fun, Sarah!
Sarah: I know exactly how you feel, Jimmy!
(Scene cuts to the bus in Ohio.)
Bus Driver: Okay kids, it's lunch break.What do you wanna eat?
Ed: I know! Let's go to McDonalds!
Everyone: OK!
Bus Driver: McDonald's it is.
(Scene cuts to a McDonald's restaurant.)
???: Hello.May I take your order?
Bus Driver: We're on a field trip, so we'll have the field trip special.
???: You guys got yourselves a lucky meal. COMING UP!
(Bus Driver sighs.)
Ed:LOL!
Ed is seen as a Chicken Wrap.
Sarah (to Ed): HURRY UP STUPID HEEEEEAD!!!!!!!!
Ed: Here's your chicken.
(The scene cuts until they got to the bus)
Nazz (to Kevin): Dude, are you alright.
Kevin (to Nazz): that was gross
Kevin: DOOOOOOOOOOORRRRRRRKS!!!!!!!!!!!!!!
Nazz (to the Eds): You guys are really immature!!
Eddy: (Laughs and stops after 5 minutes) man that was killing me.
(The scene cuts until they arrive to Disney World in Orlando, FL. )
Ed: YAY!
Eddy: Yes.
Edd: That was lengthy, also we arrived here from the departing location at approximately 12 hours.
Announcer on Speaker: Welcome Ladies and Gentlemen to the Magic Kingdom park!
Eddy: Can we go on Big Thunder Mountain first?
Bus Driver: Sure, have fun y'all.
Eddy:Let's go!
Operator: How many guests in your party?
Edd: 8, excluding Plank.
(The Peach Creek kids Ride the roller coaster)
Edd and Ed: AAAAAAAAAAAAAAAAAAAAAHHH!!!!!!!!!!!!!!!!!!!!
Eddy: WOOOOOOOOOHOOOOOO!!!!!!!!!
Nazz: THIS IS AWSOME!!!!!!!
Kevin: I KNOW!!!!!
Jimmy: (crying)
Sarah: IT'S OKAY JIMMY!!!
Johnny: I LOVE IT!!!!!!!!!!!
Ad blocker interference detected!
Wikia is a free-to-use site that makes money from advertising. We have a modified experience for viewers using ad blockers

Wikia is not accessible if you've made further modifications. Remove the custom ad blocker rule(s) and the page will load as expected.