Katie
[[[IMG]http://i152.photobucket.com/albums/s194/KisaShika/katie.jpg[/IMG]|250px]]


Name

Katrina Oaks

Age

17

Date of Birth

March 18 1995

Family

Kevin (Step-Brother) Korvin Oaks (Father) Katarina Oaks (Step-Mother) Bella (Older Blood-Sister) Joseph (Older Blood-Brother) Eric (Older Blood-Brother)
Katrina, or known as 'Katie' by all of her friends, is Kevin's step-sister in the story (Not His Day)- by KisaShikaObsessed (Deviantart). A bit of a brat, Katie has quite an attitude, so her and Kevin don't get along well. More often than not, Katie can be found hanging out with the Eds or with her friends, Kat and Kate.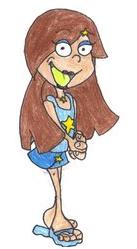 Background 
When she was younger, Katie used to live in the Cul-De-Sac, and had the biggest crush on Kevin- this was before their parents married- and followed him around on her rollerscates. But her father got a new job in oil refinery, and they had to move. After several years, when all the kids are in High School, Katie moves back and in with her new mother and brother- her father getting a job at the local Jawbreaker factory.
Kaite doesn't have much of a history after moving away from the Cul-de-sac, save for a few bad relationships which have left her heart-broken and wairy about getting involved in another relationship.
Family life
Katie was raised in a very close knit family and she has always looked up to her three older siblings Bella, Joe, and Eric. But ever since they all moved out and got their own lives, Katie doesn't see them very often. Katie is also a big Daddy's girl and looks up to him and tries to follow in his foot-steps.
Due to them not getting along well, Kevin and Katie find diffrent ways to bother one another. Kevin usually moves things around in Katie's room or tosses the occasional waterbug at her. While Kaite spends most of her time around Eddy, and sometimes even flirts with him. Most of the time their arguments don't make any sense and normally end up with them fighting untill someone seperates them.
Kevin's mother finds their fighting to be terrible while their dad, Korvin, thinks of it as a form of 'sibling bonding'.
After a few months of living with eachother, and after a few problems, Kevin and Katie become close and a lot nicer to one another.
Friends
 Katie's closest friends are Katlyn, or Kat,
Katelyn
, or Kate,
Magia
,
Fredwina
, or Fred, and
Nel
. These six girls are always around eachother and can be found around the Eds when a new scam is happening.
Trivia
Katie's favorite color is green even though she wears blue more
She has extremely bad alergies
She collects robot toys and currently owns over 50 diffrent ones
Katie loves tigers- a good majority of her room is covered in tiger things
Katie eventually starts to wear Kevin's old jackets, since he can't fit into them anymore- her favorites being his old orange hoodie and his middle school letterman
Ad blocker interference detected!
Wikia is a free-to-use site that makes money from advertising. We have a modified experience for viewers using ad blockers

Wikia is not accessible if you've made further modifications. Remove the custom ad blocker rule(s) and the page will load as expected.