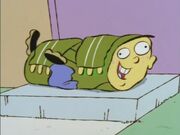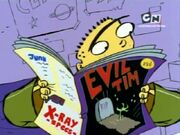 This is the alternate ending if Ed, Edd, n Eddy really did go to Japan with Sumo-Wrestler Jimmy. From the episode
One Size Fits Ed
, we did not get 2
see Jimmy as sumo-wrestler and Eddy go to Japan. Did you know Godzilla101 made an alternate ending for that episode?
The Plot Alternate Ending
Right before we left, there weren't only just one giant block tied to the lightstand, but there were 47. Ed cut them all off by chewing the ropes, and then Eddy and Jimmy the Sumo-Wrestler were all flying from the Cul-De-Sac.
Right then, Edd and Ed did not know what happened to Sumo-Jimmy and Eddy. Meanwhile, Ed had his Evil Tim issue #662,583.5 come out in the mail, and he found the article that said "A Remarkable Event Happened in Japan", please go to pg. 45 before the Evil Tim Comic Zone, and you'll find out.
Ed read that ocean scientists have found a giant massive blob that has people-skin in the ocean, and it turned out to be a drowned fat boy, and all the Japanese people have become hungry for knowledge about this. It was really Jimmy who was only three meters close to landing in the Hokkaido beach sand area, and Eddy was squashed by Sumo-Jimmy. Sumo-Jimmy and Eddy were taken to Missing Children Center, and suddenly, Double D grabbed the comicbook out of Ed's hands to warn Jimmy's parents and Eddy's parents. Ed asked Double D when he can have his comicbook back, and Double D said when the case will be closed. Wanting the comicbook back, Ed closed his brief case, but Double D said that's not what he clearly meant.
However, when Eddy and Jimmy's parents arrived at the Japanese Missing Children Center location, they could not speak Japanese, so first they had to go to Japanese-Language class and then talk to the counselors. Eddy and Jimmy were put under house arrest for eight weeks, and are forbidden from Japan for the world's largest children-misbehavior. All the children are happy that Eddy is under house arrest because then he can't scam them. And also, Jimmy had to go through liposuction to get all the body fat out of him.
Next, Ed gets bored because Eddy can't visit him, so he turns on the television and watches the news. The news that time is about the fact that now all children are expected to exercise at a minimum rate of 2 hours per week from being so fat like Jimmy, and also, Sarah gets to boss Jimmy all around by making him bicycle because the liposuction only succeeded in removing 65% of his obesity, and Sarah has to remove the remaining 35%.
Double D asks if Eddy learned a lesson. Eddy says he does...., start sumo-wrestling scams only in the Cul-De-Sac.