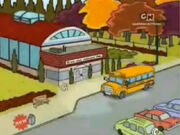 Super Ed Brothers is an episode from Season 1 of
The NEW Edventures of Ed,Edd,N Eddy
.
Quotes
---
Ed: I have a pen and I'm not afraid to- (Spills ink. Nintendo 64 explodes.) --use it.
Kevin: Now Ed is in trouble
Plot
The Video Game Tounament is in Peach Creek and this year's theme is Mario. So The Eds have to win!
Trivia/Goofs
It is reavealed that Rolf likes playing Nintendo DS Mario games.
This is the first time Kyle listens to iPod.
This is the first time Nazz listens to a mp3 Player.
Transcript

(The camera zooms into the bus.)
Kyle:
Could you hear me now?
(Kevin ignores him.)
Kyle: COULD YOU HEAR ME NOW!!??
Kevin:
Yes! For the 90th time,
YES!!!Kyle:
Good.
Eddy:
So what's today's lunch again,
Ed
?
Ed: ANYTHING!!Edd: BE QUIET!!Eddy:
OK! We're just asking anything,
Double D
.
(Scene cuts to a school assembly. The Eds walk out of the assembly.)

Ed: I can't belive The Video Game Tournament is in Peach Creek and this years theme is Mario!
Eddy: Boys, WE MUST WIN THAT TROPHY!!!
Edd: Matters, if we are good or bad, Eddy.
Ed: OH! Is this charades? Umm...Borg-Ect-Ci-kki-Moo-

(Camera zooms into Ed's brain.)
Ed Brain 1: There is a fire!
Ed Brain 2: We gotta open the door!
Ed Brain 3: The door won't open!
(Smoke comes in the Ed Brains's faces and start coughing. Camera zooms out of Ed's Brain.)

Ed: ...God-Le-Borebfv=.....
Edd: Ed, your head is on fire. THAT DRINK!!!
Ed: It's Apple Juice, Double D. Want some? (Edd throws the juice at him and fire goes out.) That's better. Thanks Double D.
Eddy: Tomorrow boys, fame and fortune!

More SOON!
Ad blocker interference detected!
Wikia is a free-to-use site that makes money from advertising. We have a modified experience for viewers using ad blockers

Wikia is not accessible if you've made further modifications. Remove the custom ad blocker rule(s) and the page will load as expected.