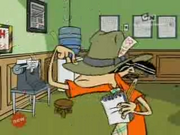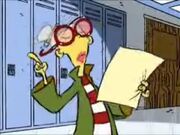 The Bobby Blabby Issue 2
is a fan-fiction article by
Godzilla101
.
Summary
Blobby Blabby magazine articles were destroyed by reputation before. But someone has taken over the second Blobby Blabby Issue #2.
The Articles
Jonny's body bacteria develops a certain type of disease called, "The Not-Always Common Cold-Hearted Trouble of Germs in Jonny".
Jimmy is actually from another planet called chimp a dhimp.
Edd actually has dandruff, lice, and is bald, that's why he wears his hat.
Rolf blows up Kevin's house as revenge at Kevin for blowing up his house as home for his grandmother.
Sarah found out that she's not part of a "secret chimp foghorn race", but a "screaming-turkey" race.
Nazz is afraid of herself.
The world supply of banana increased by 86% of the same number rate in 1973.
Rolf is a "carnivorous mutant cannibal".
Nazz uses Plank to pick her nose with.
May drank 200 cups of joe.
Crew
Publisher: Ed (disguised as an old lady)
Newspaper Delivery: liz
Writer: Bobby Blabby's true identity name: Eddy
Reaction
The Disease Control Agency kidnapped Jonny and took him into the Bacteria Prison to dissect and study the disease type.
Jonny got Kevin in trouble after being released from the DCA Prison by telling his parents.
Jimmy was taken by NASA and Interpol to locate him back to his home planet.
Double D didn't believe it, and removed his hat to prove it, only to realize that at least that he was bald.
Kevin beat up Rolf.
Sarah got very angry and is looking for the publisher.
Nazz's reaction was the same as Sarah's.
The Cul-de-Sac kids' parents brought extra bananas home for dinner, making the kids happy.
Zoologists are now on the search for "Rolf the Cannibal"; and when they find him they will put him in the zoo.
The Prevention of Cruelty to Wood (POCTW) Act is now on a war-path against Nazz.
Caffine rush with May kanker.