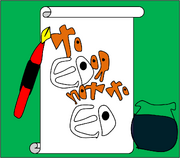 Eddy is moving out of class angrily Eddy : cant believe that I got a detention because Ed jumped on the teacher Ed : she was a vampire Eddy like in iron monster vs. ninja aliens.Eddy : why are you so happy double d.Edd: the school is preparing  Romeo and Juliet on stage and I may be able to play as Romeo . I've been practicing for weeks even see " Juliet is the son and the east I the wind "Eddy : who cares about Shakespeare  thingies .Then Nazz comes out and says to Kevin that she will play  as Juliet in the Romeo and Juliet show .Eddy : forget what I said double d come with me .In the contest there was Kevin , Plank , Rolf and the eds . Rolf acting like Romeo  : Rolf sees the sea in your eye like Wilfred skin .Sarah : you  know what I don't see I don't see A BRAIN IN YOUR HEAD FISH FACE .Rolf : what Rolf stinks  but Rolf put garlic breath .Plank : …………………………………………………………Lee: what. Plank : …………………………………………………………Lee: what. Plank : …………………………………………………………  Lee holding plank : talk now you idiot.Eddy : beating them will be easy .Kevin : shut up dork  I will win .NEXT.Ed : 2p or not to 2p that is the question .The teacher : next Edd your on with Nazz .Eddy : can't make him steel my turn .So eddy took a pencil from double d's bag .Edd : my turn my turn just make me take my pencil and Wright ……oh my I lost my pencil I must run  home.Eddy : yes no one is on my way now . The teacher : next Kevin your on with Nazz . So Eddy  threw  a pencil on Kevin so Kevin   slipped and felled  on Eddy  so they both went to the nurse.In the show .Eddy : cant believe this.Kevin : it should have been me .Eddy : well you should have been better than plank.Plank: ……………………………………………………………….Nazz : oh Romeo .
Ad blocker interference detected!
Wikia is a free-to-use site that makes money from advertising. We have a modified experience for viewers using ad blockers

Wikia is not accessible if you've made further modifications. Remove the custom ad blocker rule(s) and the page will load as expected.